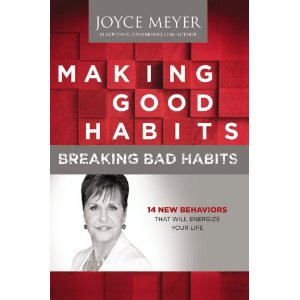 We all have bad habits - some impact our lives more than others and most of us have at least one we want to break. Joyce Meyer examines how our habits are formed and how to break the bad ones.
Her focus, as expected, is to have an understanding of God's Word and what He want for us. Meyers shoots down any idea that we can break bad behaviors in our own efforts and stresses the importance of relying on faith to change behavior.
She doesn't spend a lot of time on the bad habits other than to encourage Christians to look to scripture for guidance. Instead, she spends time on the good habits such as generosity, confidence, and discipline; and provides guidance to people seeking to make some changes.
This one wasn't one of my favorites because it did seem a little overly simplistic. However, I like the approach she takes of focusing on what you want, rather than on what you need to stop doing. Thinking positive about the rewards can be a motivator. Her primary message that comes across in all her books is that no matter how hard things look, they can change with God's help.
Disclaimer: I received this book from Hachette Book Group in exchange for an honest review.